Tripura: At a Glance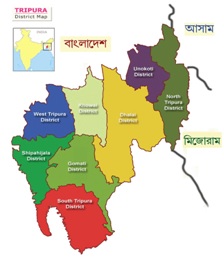 Tripura is a state in North-East India. It shares borders with Bangladesh, Mizoram and Assam. Tripura is surrounded by Bangladesh on its north, south and west. The length of its international border is 856 km (84 per cent of its total border). The state is connected with the rest of India by NH-44 that runs through Assam, Meghalaya, North Bengal, Kolkata and other parts of India.
Particulars
Description
Area
10, 491.69 sq.km.
Population
36,73,917 (as per Census 2011)
Capital
Agartala
Official Languages
Bengali, Kokborok and English
Other Languages
Mogh, Chakma, Halam, Garo, Bishnupriya Manipuri, Manipuri, Hindi, Oriya etc.
Altitude
12.80 meters
Temperature
Summer : 20° to 36° C.
Winter : 7° to 27° C. Winter: 2°C Min
Rainy Season
June to September
Average Rainfall
2500mm per annum
Highest Rainfall
2855mm (Kamalpur)
Lowest Rainfall
1811mm (Sonamura)
Literacy Rate
87.8% (as recorded in 2011 Census). As per recent data, the literacy rate is around 96%.
For further information navigate to :
|

Page last updated date : 25-11-2022 10:17 AM