Tripura, nestled in a tip of the Northeast, flourishes on the bounties of nature but the beauty of the state is heightened by its human resources on the one hand and rich cultural tradition on the other.
Folk culture of the tribal and non-tribal people of the state forms the backbone of Tripura's cultural tradition. This is reflected as much in the delicately rhythmic physical movement of the 'Hoza Giri' dance of the Reang tribesmen as in the collective musical recitation of 'Manasa Mangal' or 'Kirtan' (devotional songs in chorus) of the non-tribals. Apart from this, the 'Garia' dance of the tribals, organized on the occasion of New Year festivities and worship of 'Garia', and 'Dhamail' dance of the non-tribals, organized on familial occasions like wedding ceremony in rural areas as well as musical duels (Kabi Gaan) between two rival rhyme-makers on public platforms form the staple of Tripura's folk culture. Enriched by myths and legends of tribal society over the past half a millennium.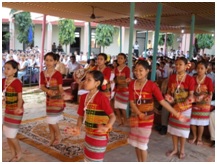 Tripura's folk culture now confronts a major threat from so-called modernity. Gone are the days when rhythmic movement of artists in 'Garia' or 'Dhamail' dance would keep viewers awake all through the night.These forms of culture have been falling prey to invasion of modernity as western musical instruments like guitar, mandolin etc keep replacing the traditional instruments like indigenous drums and flutes and western 'break dance' push aside the pristine purity of the 'Garia' dance or 'Dhamail'. However, cultural programmes, marked by songs and dances, associated with birth anniversaries of great poets and lyricists Rabindra Nath Tagore and Kazi Nazrul Islam add colour and charm to the state's multi-layered cultural mosaic enriched by contributions from many streams of sub-culture.
|

Page last updated date : 29-08-2022 06:24 PM